The most valuable and in-demand product on the planet right now isn't an EV, smartphone or game console. It's semiconductors — a key component found in all of these devices and every other high-tech product on the market. A global shortage of semiconductors is having a huge ripple effect. Car manufacturers are idling plants because they can't get the chips they need. Smartphone releases have been delayed. The price of TVs is going up by as much as 30%.
This demand isn't going anywhere. If anything the demand for semiconductors is only going to increase. That makes the companies involved in the production of semiconductors a very smart investment for a growth-focused portfolio.
As such, I've put together a list seven semiconductor stocks that would make great choices.
The obvious choices — semiconductor fabricators — are well-represented on this list. But it pays to cast a wider net. I've also included less obvious choices that many investors make the mistake of overlooking, including companies that supply raw materials or provide the technology required to make those "silicon gold" semiconductors.
Key Investments In Semiconductors: Applied Materials (AMAT)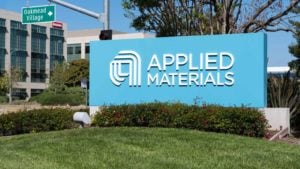 California-based Applied Materials describes itself as "the leader in materials engineering solutions used to produce virtually every new chip and advanced display in the world."
That's a big claim, but Applied Materials isn't just idly boasting. The company supplies material engineering solutions that manufacturers of semiconductors use in the design, product development and fabrication of chips. In its first quarter 2021 results, Applied Materials showed just how much it is benefiting from the scramble to ramp up chip production and yields. It set a record with quarterly revenue of $5.16 billion, up 24% year-over-year. The company projected it will "substantially outgrow our markets again in 2021 and beyond."
After 8 years of stagnation, AMAT stock caught fire in mid-2020, as the global shortage of semiconductors began to take hold. It has now posted growth of 122% over the past 12 months.
AMAT stock current holds a 'B' rating in Portfolio Grader.
Corning (GLW)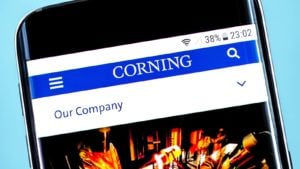 Corning is an American company that significantly predates the computer and semiconductor industries. But the glass-maker became a high-tech company through the introduction of optical fiber and the Gorilla Glass that protects many smartphone, tablet and laptop displays.
You may not have realized it, but Corning also holds a critical role in the manufacture of semiconductors. Corning supplies ultra-pure materials for the fabrication process, including fused silica. Its optical materials and lenses are used in the photolithography process used in the manufacture of semiconductor wafers. Advances like Corning's EUV (extreme ultraviolet lithography) are helping make smaller and more complex chips possible.
Corning makes a great addition to a portfolio. It's a way to invest in the semiconductor rush, but Corning is also an integral part of many growing high-tech trends, including putting displays in devices and deploying high-speed broadband using fiber optics.
GLW stock is a proven performer, and has delivered growth of 123% over the past 5 years.
At the time of publication, the Portfolio Grader rating for GLW stock was 'B.'
Key Investments In Semiconductors: Lam Research (LRCX)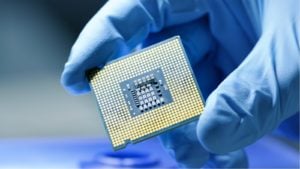 Described as a "fundamental enabler" of the global semiconductor industry, Lam Research is focused on the production — or fabrication — of chips. Lam doesn't design or fabric chips itself. Instead, the company supplies the highly specialized equipment needed to fabricate chips. Higher demand for chips, and fabricators investing in new plants means increased demand for Lam's services.
When Lam Research announced a record quarter in March, the company's CEO told investors: "Semiconductors are reaching new heights of strategic relevance, and Lam's differentiated ability to meet our customers' scaling challenges positions us well amid a strong wafer fabrication spending environment."
While growth has steepened over the past year, LRCX was already on a firm growth trajectory. Over the past 5 years, it has rewarded investors with returns of 690%.
LRCX stock currently has a total grade of 'B' in Portfolio Grader.
Full story on InvestorPlace.com