This story was originally published here.
Despite three days of gains, U.S. financial markets looked likely to continue to deliver volatility for the foreseeable future. The markets' wild swings might be nauseating, but they also offer investors ultra-low entry points for high-quality stocks. Starbucks (NASDAQ:SBUX) is one such equity that deserves to be on your buy list. SBUX stock has fallen 20% over the past week on coronavirus worries, but the firm looks likely to bounce back from the carnage when all is said and done.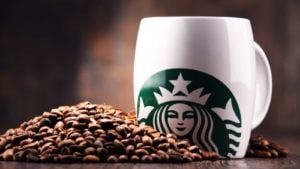 Source: monticello / Shutterstock.com
Starbucks has already lived through one recession in 2008, which should give investors confidence that the coffee chain can do it again. Plus, Starbucks' strong online presence, drive-through options and customer initiatives make it a great pick both during the coronavirus crisis itself as well as the recession that's to follow.
SBUX Stock Has Staying Power
With roughly a third of the world's population under lockdown, restaurants are understandably suffering. Starbucks is not immune to the challenge of lower foot traffic and reduced spending, but it looks like the coffee chain might be able to make the best of it and outperform peers.
While coffee isn't strictly essential, it's become a must-have morning pick-me-up for many people. As more and more states call for lockdowns in America, Starbucks has been able to continue serving customers via its drive-through locations.
Foot-traffic data shows that Starbucks actually saw the number of customers it served rise during the first week of March when worries about coronavirus in the U.S. ramped up. Of course, data from the remainder of the month is likely to show a decline, but it's worth noting that people were unwilling to forfeit their cup-of-Joe even as virus fears increased — a good sign for Starbucks for the remainder of this crisis.
Editor's Note: For more good signs for Starbucks, click here to keep reading. And don't miss out on this great opportunity…
Take a peek at this shiny device…
You can squeeze it between your fingers, just like a cigarette.
It's tiny, less than 1 inch wide by one-quarter inch tall…
But for reasons you're about to discover…
If you place an informed "bet" on this "smart antenna" technology right NOW… it could fast-track your way to achieving millionaire status over time.
You see, this tiny device is a key enabler of 5G — the fifth generation of wireless technology now taking America by storm.
It's inside all those strange new towers going up all over your town.
But here's the story almost no one is talking about…
ONE company in particular is leading the charge during this exciting time.
Go HERE to discover details about my #1 tech superstar pick for 2020.
Here's why I'm so excited about this opportunity… Past extraordinary examples from my track record have exploded by as much as 3,972%… 12,815%… 24,221%… or 50,662% over time. This makes me believe that this stock could do the same.
Use this special link set up for readers to see if this smart antenna opportunity could be a retirement saver for you.