Crypto is going mainstream and Coinbase (NASDAQ:COIN) is leading the charge for risk-friendly investors.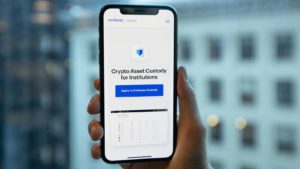 In the wake of the pandemic, digital currencies like Bitcoin (CCC:BTC-USD) became the hot new trade as people started piling their stimulus checks into these investments.
Interest drove BTC higher, the currency briefly hit a peak of $64,000 after starting the year at a $30,000 valuation. This served as a major tailwind for Coinbase, this is the largest crypto exchange in the country and first major crypto-focused company.
At its IPO on April 14 Coinbase was well received well by investors, making its CEO, Brian Armstrong one of the richest people in the world. The company is a crypto fan favorite for a number of reasons.
Prior to its inception, buying cryptocurrencies was deemed risky and inaccessible. Coinbase simplified the process and reduced the number of hoops investors had to jump through to buy digital currencies.
Widely considered to be the Robinhood of Bitcoin, Coinbase broke down the complex blockchains associated with crypto trading. This made the process of buying cryptocurrencies hassle-free for newcomers.
As more people jumped on the crypto bandwagon this year, the company was able to accelerate its user growth.
Bitcoin's supercharge this year makes Coinbase a great addition to your portfolio. However, given the element of volatility, investors should exercise greater caution when trading this stock.
Coinbase Has A Blockbuster IPO
Coinbase issued its IPO on April 14, making it the first digital currency platform to go public in the U.S. Investors called it a "watershed moment" for crypto as it served as a big push for digital currencies to go mainstream.
COIN opened at $381 soaring as high as $429 and ending the day at $328.28. At the end of the first day of trading, the company was valued at $85 billion. The virtual currency market broke into a $2 trillion market capitalization just earlier in the month. It trades today around $273.
Coinbase's IPO is a big deal for the crypto community as it validates the use of digital currencies in the mainstream market. For many years, the barriers that existed in the crypto market made trading Bitcoin inaccessible and difficult for investors.
Coinbase claimed to have solved this problem.
The platform enables individual and institutional investors to buy and trade a variety of cryptocurrencies. Users can also store their currency in a digital wallet or initiate crypto transactions with their credit card. Merchants on the platform have access to numerous crypto-processing services.
As for the numbers, Coinbase ended 2020 with a median trading volume of $195 billion which was up 50% from the previous year. The platform boasts 56 million users from 100 different countries and has 7,000 registered financial institutions on its platform.
COIN's major source of revenue is transaction fees. With the parabolic rise in Bitcoin's price this year, Coinbase was able to rake in $1.8 billion in revenue. This value was up by 58% from the prior year.
Coinbase has a bright future but the investment comes with an element of risk.
A Note on Risk
Coinbase's returns in 2020 were impressive, but unlike traditional stocks, the investment comes with a bigger risk tag. The performance of the crypto exchange ties to Bitcoin, which could result in greater price volatility given the nature of digital currencies is at its core highly volatile and speculative.
On April 18, after hitting a peak of $64,829, Bitcoin soon lost 24% of its value, dipping to a low of $49,334. Nearly $220 billion of crypto's market cap was wiped out in an instant.
COIN stock dropped 32% as a result. For investors, this volatility makes COIN a risky proposition. But traders who prepared to stomach abrupt drops in stock prices will find it a good play.
Full story on InvestorPlace.com