This story was originally published here.
The coronavirus has been a true gut punch. It was something most entrepreneurs just couldn't see coming, no less prepare for.
I'm not hearing a lot of complaints, mind you. Complainers, after all, don't often become successful entrepreneurs.
Still, the odds are stacked against them.
Real small-business owners are finding it almost impossible to cut through the red tape in order to receive coronavirus relief packages.
At the same time, dozens of big public companies with access to capital markets were able to rack up $10 million loans from a federal program that was billed as emergency funding for small businesses. In all, 220 public companies applied for at least $870 million in loans from the Paycheck Protection Program.
Sure, some of those companies, including Potbelly Corp. (PBPB) and Shake Shack Inc. (SHAK), have been shamed into returning those loans … but my point stands.
To be fair, though, a different set of odds is stacked against those restaurant companies — and against almost every company out there.
I'm talking about every business from multinational food distributors to your buddy's cigar shop …

Software vs. Everybody Else
Below is a three-year chart of software stocks versus the market.
To be precise, the chart shows the iShares North American Tech-Software ETF (IGV) versus the S&P 500 Equal Weight Index (SPXEW).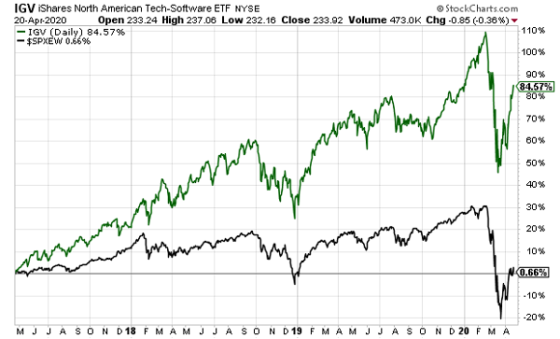 The S&P Equal Weight Index is pretty much breakeven.
But even after that coronavirus gut punch, IGV is up an incredible 84.6%.
We all know technology is doing well.
We all know technology is making billionaires richer … even during the coronavirus crisis.
Since the beginning of March, more than 22 million Americans have lost their jobs.
Meanwhile, American billionaires saw their total wealth increase about 10%. They now own $282 billion more than they did two months ago — a combined net worth of $3.23 trillion.
But only one in 1,000 investors knows why this is true.
That's too bad.
Not knowing why technology — and, in particular, software — is outperforming the rest of the market could mean having a far poorer retirement. It could mean many more years of working, instead of ever retiring at all.
While very few understand it, this gap between tech and the rest of the market — this "Technochasm" — isn't a new phenomenon.
And the rate at which the Technochasm is widening isn't slowing down. In fact, it's accelerating.
The reason for this is simple.
And it will be very lucrative for the investors who take the time to turn it to their advantage…
Editor's Note: Click here for the full story.
A Look at America's #1 Wealth Creator Right Now
He received the National Medal of Technology and Innovation from President Clinton…
Won a $500,000 prize from MIT…
Received 21 honorary university doctorates and honors from three U.S. presidents… and is currently the director of Engineering at Google.
But perhaps most importantly, the man Inc. Magazine dubbed "Edison's rightful heir" developed a theory that is essentially a blueprint for how to make extraordinary investment gains in America right now.
Today, nothing is giving more Americans the chance to make more money, more quickly, than this.
And if you don't understand this concept… and if you don't invest your money following this rule… you are all but guaranteed to miss out on the biggest gains.
Incredibly, this law also explains why the wealth gap in America is so big, and is sure to get bigger.
No politician, on either side of the aisle, is ever going to reveal this secret to you.
Get the facts for yourself from an analyst who bases his research off of this law.
Learn everything you need to know about this incredibly powerful law, and the specifics on how to use it immediately to potentially maximize your financial gains, with three simple steps, right here in this presentation…
P.S. We don't need socialism in America. We need more people to understand this rule from the man Inc. Magazine called "Edison's rightful heir." I truly believe it's the most important thing affecting you and your money today—learn more here…