We retirees and soon-to-be retirees have a dilemma. The traditional pension is just about gone. Social Security won't support the lifestyle most of us want. We are left to our own devices.
But even if we do build up a fat balance in a 401(k) or other company retirement plan, how do we make it last? Especially when the bank pays "zero point nothing." Today, you can't find anything that pays significant "interest."
This is becoming a crisis in the US. We are told that stocks provide the best returns over the long term, but retirees need income now. Most retirement investors prefer dividend income to long-term gains, but yields haven't been this low in decades! The S&P 500 pays a measly 2% or so today. If you have a million-dollar portfolio, that's a lousy $20,000 per year in income, or $385 a week. That's no retirement.
Now some dividend-income investors protest, "But I don't own the S&P 500 index for income. I choose the best companies in the index, the ones whose dividends have gone up and up. The dividend aristocrats." But are they true monarchs or mere pretenders to the throne.
The problem with growing your dividends for a minimum of 25 consecutive years is that's a lot of time for your own profit growth to slow down. That means many of your dividend increases are cutting even further into your earnings. You don't want to break the bank, so your hikes shrink over time–a couple percent here, a couple percent there, just to keep your Aristocrat lapel pin.
I'll let you in on a secret: Sometimes, the best place to make your dividend-growth play is on the ground floor, in companies that have really only begun to scratch the surface. In fact, two of the picks I'm about to show you have been paying dividends for less than five years.
Let me show you the difference between some of the largest blue-chip Dividend Aristocrats and my plucky group of five turbo-charged dividend growers: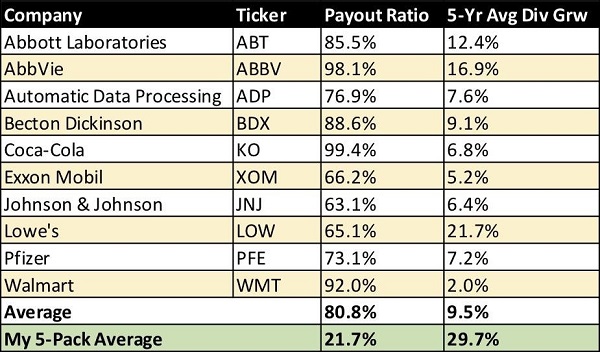 These Blue Chips Are Crawling to the Finish Line

The 9.5% growth rate above is nice but it's not sustainable. These firms are already paying 80% of their profits as payouts! This stat is great for the last five years, but awful for the next five–and that's what we care about.