In an effort to bring attention to his lagging industry,  last week a Minnesota dairy farmer posted an emotional  video on Facebook that went viral.
The six-minute video garnered over 400,000 views.
Viewers saw a young farmer emotionally and tearfully share the everyday struggles affecting his family's dairy farm.
Between growing millennial trends in Paleo and plant-based diets that ditch dairy and a boom in "alt milks" available (soy, almond, oat, cashew – the list goes on) …
The conventional dairy industry is being fast "disruptified."
According to the Dairy Farmers of America, net sales of milk tanked in 2018 by $1 billion. Down to $14 billion in 2018 versus $15 billion in 2017.
Meanwhile,  the market growth for dairy alternatives is on a tear.
Dairy Farmers Become Almond Farmers
Per Grand View Research, the global market was valued at $11.9 billion in 2017 and is expected to grow to more than $41 billion by 2025. A 250% leap.
Dairy farmers like the young man featured in the video are in a difficult position.
They are farming at time when their industry is in full disruption.
Alternative dairy products are making significant inroads in this established industry.
According to the U.S. Department of Agriculture, Americans on average drink 37% less cow's milk today than in 1970. And per One Green Planet, about 33% of consumers prefer dairy-free milk products.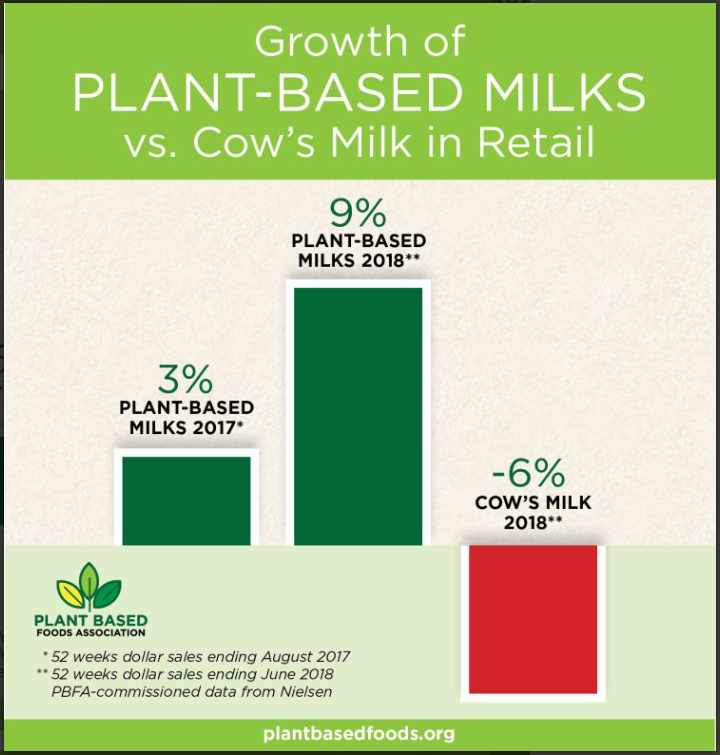 So, how can farmers like the aforementioned young man adapt to "disruptification"?
The solution may be incorporating new crops into their farming regimen.
In California, one of the largest dairy-producing states in the U.S., several dairy farmers have made the decision to partly transition to almond farming.
FoodNavigator-USA interviewed Richard Waycott, president and CEO of the Almond Board of California.
Per Waycott, dairy farmers "that might have traditionally planted x-hundred acres of corn or silage for their dairy herds … are now sourcing that from out of state and diversifying into almonds."
According to the Almond Board of California, almond production is forecast to increase by 33% from about 2.3 billion pounds in 2017 to nearly 3 billion pounds in 2021.
How to Invest in Almond Milk
Since the growth in dairy-free milk farming is expected to continue growing for the next several years, here's a way to invest.
Currently, there are no dairy-free milk exchange-traded funds. But there's one company that's become a leading plant-based producer.
The company is Danone (OTC: DANOY).
Danone is steadily diversifying its business to meet the growing plant-based consumer demand.
In July 2016, the company announced that it would acquire WhiteWave Foods for about $12 billion. The transaction was completed in April 2017.
WhiteWave Foods is a Denver-based company that produces and sells plant-based and organic food.