This story was originally published here.
In our February 28 Digest, I wrote about the diversifying benefit of cryptocurrencies in a portfolio, highlighting bitcoin.
The point wasn't that bitcoin was always "up," but rather, it had a mind of its own and didn't necessarily rise or fall in conjunction with the stock market.
To illustrate, below you see bitcoin compared to the S&P from late-March 2019 through early January. Do you see any clear correlation here?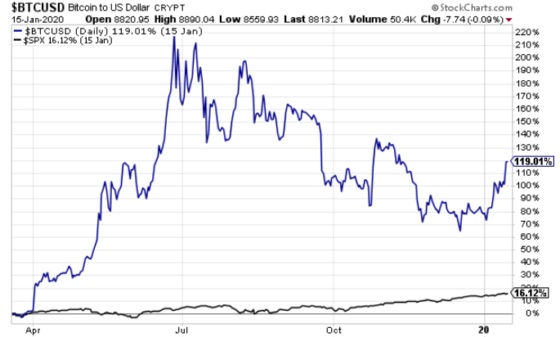 Of course, after writing that late-February Digest, the markets decided to humble me.
Here's how bitcoin and the S&P looked, from the beginning of March through the end of two weeks ago.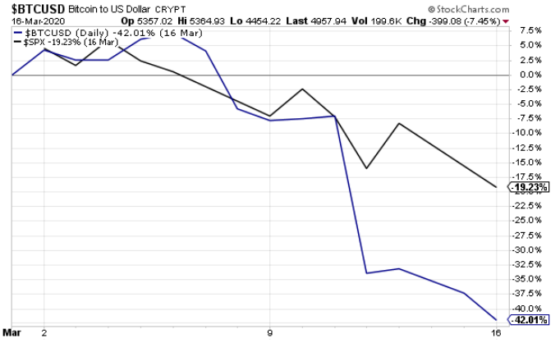 Not only did bitcoin sell off alongside the market, it did so with a far-greater fury.
Why? Aren't these asset classes supposed to be uncorrelated?
Hold on that — we'll return to it in a moment.
First, look what's happened in the past week.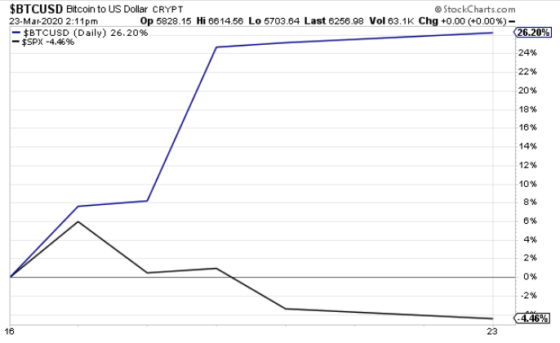 Though bitcoin fell some over the weekend, it's still up over 26% over the last week while the S&P has fallen close to 5%.
Perhaps there is some non-correlation benefit after all.
***Stepping back, where are we with bitcoin and the various altcoins right now?
And how is the COVID-19 crisis affecting the upcoming halvening?
If you're new to the Digest and aren't sure what a halvening is, it's a unique event in the crypto world in which Bitcoin "miners" see their reward for mining new Bitcoin cut in half. Huge gains in Bitcoin and various altcoins have surrounded the past two halvening events. The next one is occurring in May.
Below, our crypto specialist and editor of Ultimate Crypto, Matt McCall, describes why the halvening is such a big deal — particularly for elite altcoins even more so than bitcoin.
By the way, if you're less familiar with altcoins, they're simply "alternative" cryptocurrencies beyond bitcoin. They can be gimmicky "me too" products which are just trying to capitalize on investor interest in the space, or they can provide a unique twist on the crypto/blockchain/financial world that makes them truly unique and valuable.
Here's Matt:
Looking back over the last two halvenings, investing in specific altcoins (rather than bitcoin) would have made significantly more money.

During the same period in which bitcoin climbed 4,500% surrounding the second halving, an altcoin called Einsteinium shot up over 580,000%. That's 129 times the gains bitcoin made investors during its massive run. For perspective, that would have turned $5,000 into $29 million. Talk about a life-changing investment.

If that doesn't excite you, try this: Another altcoin called verge shot up over 63,000%. That's more than 630 times your investment!
But these gains all happened in a non-COVID-19 world. How does today's crisis environment change things? Are crypto investors still looking at the potential for life-changing returns?
To find out these answers and more, I interviewed Matt last Friday. It turns out, the crashing prices in the crypto world (prior to the recent, robust rally) have simply made Matt even more bullish on the potential longer-term gains to come.
So, in today's Digest, let's get Matt's thoughts on the challenges and opportunities in the crypto space. Click here to see them now.
But before you do, there's an even more important message you need to see.
Now, there's a lot of hype surrounding 5G these days…
And for good reason. It's a breakthrough technology that's going to change the world and make early investors a fortune.
But investing legend Louis Navellier says there's only one 5G stock you should be paying attention to right now.
This is coming from the analyst who…
Found Microsoft when it was trading for 39 cents.
Cisco at 50 cents.
Qualcomm at $2.45.
Adobe at $1.91.
Apple when the legendary software company was trading for $1.38.
Amazon when it was just a $46 stock (today it's over $1,885).
And MarketWatch said he was "the advisor who recommended Google before anyone else."
Now Louis's pounding the table on a 5G stock he recently uncovered.
He's put together a presentation with the full details which you can view right here.