The price of commodities and the stocks that rely on them don't always sync up. For example, when gold is strong, gold stocks tend to be strong, as well. But there's money to be made when the prices diverge, like the 100% gainer we'll show you today.
Right now, oil prices and oil stocks' performances over the past month have diverged. Oil prices are up 35% on the year, but oil stocks as a class are lagging behind. Take a look at the chart below.
The chart shows the relative movements of the United States Oil Fund (NYSEArca: USO), which invests in crude oil futures contracts, and the Select Sector SPDR Energy exchange-traded fund (NYSEArca: XLE) since last November. As you can see, the two move more or less together over time.
However, oil prices have broken away from the stocks over the last two months.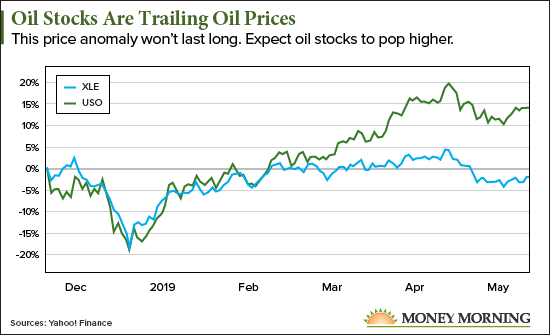 This is a great opportunity to buy oil stocks, since oil prices aren't going to sink lower.
Here's exactly why these oil prices are here to stay, plus one oil stock we expect to double once the sector rallies…