One of the best hedge fund managers of the past 20 years just made a huge, high-conviction investment bet.
The hedge fund manager that I'm talking about is Mohnish Pabrai. And the high conviction investment bet that Pabrai just made is on… India.
That's right. As of today, Pabrai has 40 percent of his fund invested in India and just 0.1 percent of his billion dollar fund invested in the United States.
That means just $1 million is invested in America, while $400 million is invested in India.
You don't see that every day from a hedge fund manager!
I've followed Pabrai closely for 20 years. And while I once recall him owning a small basket of Japanese stocks that traded below book value, I don't ever recall any sort of international high-conviction investment like this.
The man obviously thinks that Indian stocks represent by far the best value in the investment world today. His track record would suggest that we should pay attention.
The Pabrai Philosophy — Concentrated And Careful
Since launching his fund near the end of 2000, Pabrai has generated a cumulative return of 967 percent for his investors. That performance smashes the 168 percent that the S&P 500 has produced over that time.
What I particularly love about following Pabrai is that the man runs a very concentrated portfolio.  He holds few positions and only invests when he has extremely high conviction.
When he does invest, he invests a meaningful amount.
Because Pabrai owns only a small number of positions at any given time, he can't afford to make major mistakes. One big error would ruin his overall performance.
That means that each and every investment is heavily scrutinized.
His long-term track record tells you what kind of a stock picker he is.
With 40 percent of his portfolio in India, his conviction level in the opportunity presented in that emerging nation today must be off the charts.
With a little detective work, I was able to determine that the Indian housing finance sector is the particular segment of Indian stocks that Pabrai is really infatuated with.2
His logic is sound.
Indian mortgages as a percentage of owned home value is ludicrously low. Just 6 percent of the value of Indian homes has been pledged as collateral for mortgages. The norm in other emerging economies is almost 20 percent, and in the United States it is closer to 40 percent.
As India continues to see millions and millions of people climb into the middle class, demand for financing the purchase of a home is going to skyrocket. Pabrai believes that India's housing finance sector is going to have to grow at 3 to 4 times the rate that Indian GDP is growing.
With India's GDP growing at nearly 7 percent, that means the housing finance sector is going to be growing by 20 to 30 percent per year for the foreseeable future.
No wonder he is so excited!
Here Is How We Play The Indian Opportunity — Fairfax India
Personally, I don't know the first thing about investing in India. In fact, I'd be more than a little leery to try and pick Indian stocks.
Fortunately, I know a world class operator that can do it for us.
Fairfax India (FFXDF) is a publicly traded company that was formed specifically to take advantage of the opportunity that a rapidly growing India presents. The company was founded by Prem Watsa, who is often referred to as the "Canadian Warren Buffett."
Watsa has led the Canadian reinsurance company, Fairfax Financial (FRFHF), to an incredible 33-year track record.
Today, Fairfax India has made investments in India that are approaching $2 billion. Those investments are focused on giving Fairfax controlling interests in the companies that it has taken a position in.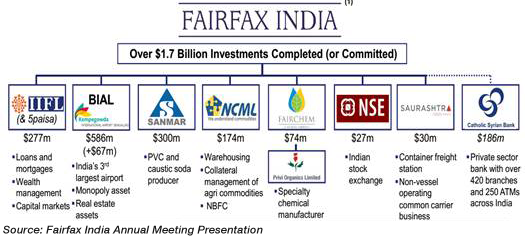 Thirty percent of those investments have direct exposure to the Indian home finance sector that Monish Pabrai is so bullish about. The other investments include the third largest airport in India, a soda producer and an agriculture finance business.
All of those investments are going to benefit from India's rapidly expanding middle class.
Fairfax India is an exciting way to partner with an incredible businessman, and also allows us to take advantage of the unique, long-term growth opportunity that India presents. Full story at The Daily Reckoning