This story was originally published here.
The shutdown of non-essential businesses across the United States has created an unexpected and sudden deterioration in the economy. Yet, given what we know about the severity of the novel coronavirus, the world must do anything to stop its spread. And the service industry is getting decimated, along with the tourism and hospitality industry. Restaurant stocks are trading at steep discounts as a result.
Companies that support teleworking may continue working. But industries that require a face-to-face interaction will see a drop in business for now.
The U.S. government approved a monstrously large stimulus package, partly to help consumers pay the rent and buy necessities. The government increased spending while the Federal Reserve eased rates to increase liquidity.
But Laura Gonzalez, an associate professor of finance at California State University's Long Beach campus, said that "the production of processed food may not be sustained within months, and the United States could see a disruption in the market of perishable food. That would alter income in other industries because the price of some essentials may increase at a time of lack of liquidity."
Investors could look at stocks like Conagra Brands (NYSE:CAG) or Kellogg (NYSE:K) for exposure to the processed and packaged goods market. Conversely, the restaurant sector has stocks trading at steep discounts in light of the shutdown.
When this is lifted, be it in a few or several weeks, investors have seven restaurant stocks to consider buying. Compare Brokers
Restaurant Stocks: Restaurant Brands International (QSR)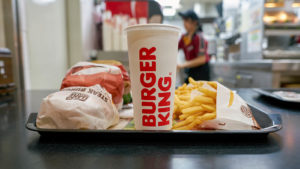 Source: Shutterstock
Restaurant Brands International (NYSE:QSR) has traded in the $40-$60 range since 2017. The breakout to around $76 last summer proved very short-lived. The company owns Burger King, a global business that performed well last year. In its last quarter, the company said that it watched the lockdown unfolding in China carefully. But since Burger King accounted for roughly 2% of sales, the company did not expect any material downturn in its business.
Burger King added $23 billion in sales for QSR, growing 9% from the year before. Popeyes also enjoyed a strong year. Sales grew an impressive 18% in the year. This is due to the launch of the Chicken Sandwich.
In effect, QSR noticed the strong demand for this product that Chick-fil-A enjoyed. Management said that "for the vast majority of our guests purchasing the sandwich, we saw that they actually spent more on other products than on the sandwich itself, resulting in very healthy check levels and incredibly valuable awareness and trial."
This year stands in stark contrast to last year's strong results. Tim Hortons, a popular chain in Canada, will most certainly report a strong drop in sales after many provinces in the nation imposed a lockdown.
At 17 times earnings and the majority of analysts rating the stock a "buy," QSR stock is due for a rebound. Stock Rover thinks the fair value is $62.41.
Editor's Note: For six more picks, click here. But what's next could be even bigger than the restaurant rebound…
#1 5G Stock To Buy Now
There's a lot of hype surrounding 5G these days…
And for good reason. It's a breakthrough technology that's going to change the world and make early investors a fortune.
But investing legend Louis Navellier says there's only one 5G stock you should be paying attention to right now.
This is coming from the analyst who…
Found Microsoft when it was trading for 39 cents.
Cisco at 50 cents.
Qualcomm at $2.45.
Adobe at $1.91.
Apple when the legendary software company was trading for $1.38.
Amazon when it was just a $46 stock (today it's over $1,885).
And MarketWatch said he was "the advisor who recommended Google before anyone else."
Now Louis's pounding the table on a 5G stock he recently uncovered.
He's put together a presentation with the full details which you can view right here.