This story was originally published here.
Labor Day will keep U.S. equity markets closed on Monday, making Tuesday Sept. 8 the first trading day of next week. With that in mind, let's look at a few top stock trades ahead of a long three-day weekend.
Top Stock Trades for Tuesday No. 1: Tesla (TSLA)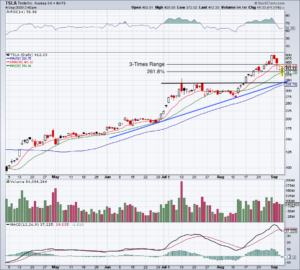 Click to EnlargeSource: Chart courtesy of StockCharts.com
The volatility over the last few days has been palpable and Tesla (NASDAQ:TSLA) is target No. 1 for many traders.
After a couple of tough days shares are finding buyers — a pullback of which doesn't look bad at all amid the current run, even though shares fell more than 25% from the peak to the recent low.
The 261.8% extension and 20-day moving average are acting as support, while the 10-day moving average is acting as resistance. We need to see which one of these levels gives way and if we can see a continuation in the direction of that break.
On a break of the 20-day moving average and 261.8% extension, let's see if Tesla takes out Friday's low at $372.02 and closes below it. If so, it puts the 50-day moving average and breakout level near $330 on the table.
Above the 10-day moving average and three-times range extension, could put $500 back on the table.
Editor's Note: Click here to keep reading.
How to turn $7 into $1,480 upfront by tomorrow afternoon
Dear Reader,
What if there were a simple way to make as much as $1,480 or more upfront per day, at home?
Well, now there is.
And thousands of in-the-know Americans are taking advantage of it today.
It's one of the greatest wealth-building secrets in the market…
Which is why Barron's calls it "one of the greatest strategies in existence…"
Because it's a simple transaction required by law to pay you cash upfront when you request it.
Of course, nothing in investing is guaranteed.
But this is about as close as it gets.
Let me show you what I mean…
If you had started doing this a year or so ago, here's how you would have done versus stocks — a time period that includes the worst crash we've seen in a century:
Just imagine what a huge difference that could make in accelerating your income…
Or simply bringing in extra income you may have lost, day after day, week after week.
All you need to get started is your home computer or smartphone, and a simple lesson on how this transaction works.
If you're looking for a way to make a lot more income…
This just may be the solution you're looking for.
Right now, InvestorPlace's trading expert John Jagerson just opened the doors to his new Master Class, in which you can start learning this technique for just $7.
That's not a typo.
For less than the price of a fancy cup of coffee, you can begin to learn a simple market approach you'll be able to use for the rest of your life…
One that can literally put thousands of dollars per week into your pocket, every week of the year.
For a limited time, you can view a short presentation here on how to get started in Master Class Lesson #1 for just $7.
Regards,
Brian Hunt
CEO, InvestorPlace