This story was originally published here.
It's all about the news for many on Wall Street. But headlines are also prone to fading away or even revision, as we've seen this week. It literally can be "yesterday's news" in a jiffy. And opportunistic investors can occasionally turn to the price chart and use others' distress from the latest news report to find excellent stocks to buy cheap. Let me explain.
In Friday's first half of trade, the headlines are insisting it's all about escalating tensions between the world's two largest super powers. But that's not exactly new news, is it? We've seen this type of political theater before. And on each of those countless headline warnings, as others were fearfully selling, investors purchasing the panic were rewarded.
Still, the fact is, extracting profits from headlines or timing entries and exits based on the latest news is tricky business. This week's bullish stimulus promises from Federal Reserve Chairman Jerome Powell following last week's scary recession warning, or Moderna's (NASDAQ:MRNA) countering novel coronavirus vaccine reports, are other news headlines that have drained more wallets than they've fattened.
To be clear, sometimes headlines suggesting a specific course of action are the real deal. But more often than not, Wall Street is buying those sold goods as others are dumping. As such, let's explore three stocks to buy with bearish stories of their own this week … and much more durable price charts to buy into.
News Stocks to Buy: Take-Two Interactive (TTWO)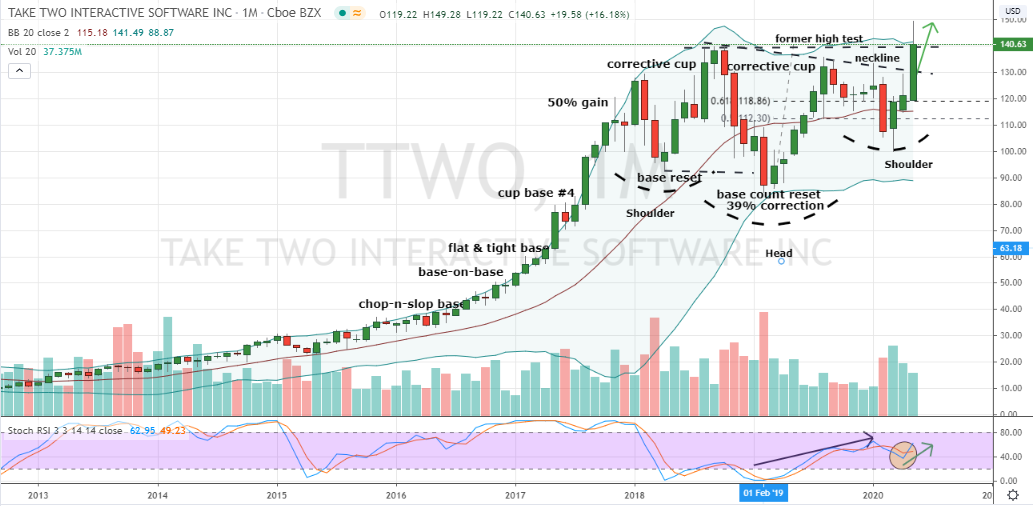 Source: Charts by TradingView
Big-time video game publisher Take-Two Interactive is the first of our stocks to buy. Shares fell nearly 6% Thursday as investors digested a stronger-than-forecast earnings release. The company behind wildly popular series like Grand Theft Auto, Red Dead Redemption and NBA2K also detailed a five-year plan which will deliver Take-Two's "strongest pipeline in company history." That's good news, right?
The report does appear to have been a solid Q4 print. However, management did warn 2021 will be light on new releases and that the company will invest slightly more into R&D. And an in-tow modest revision to revenues just beneath analyst views appears to have been sufficient incentive for investors to take profits.
But the game for bullish investors is just getting started on Take-Two's price chart.
Technically, yesterday's profit-taking is today's opportunity. Shares have pulled back to test their prior pattern and all-time-high after staging a sizable and very constructive breakout from a two-year long bullish inverse head and shoulders pattern. This news stock to buy is in position for purchase and I'm personally still confident our price target of $180-$200 for Take-Two stock will be captured.
Editor's Note: Click here for the other two stocks.
65 Unique Ways ANYONE Can Make Extra Cash (Without Getting a Second Job)
Are you looking for great sources of real income, without having to get a second job?
Then keep reading, because author Neil George wants to send you his new book that profiles 65 simple ways to earn large amounts of work-free income.
…extra cash that you can collect ON TOP of your Social Security check…
…without messing around with crappy jobs. (Pizza delivery driver? No way.)
These are PROVEN cash-gushing strategies… the kind typically used by the wealthy elite.
And the best part…
Neil George has set aside copies of his book, Income for Life, and he's willing to send you a hardback version today, ABSOLUTELY FREE (just pay shipping).
(Just 517 copies left, so click here to claim yours before it's ripped away.)
 
Here's just a sample of what you can find inside:
Learn the secret of the $50,000 lump sum Social Security check. Seriously, it couldn't be easier!
Use what Neil calls the "F.H.A. Loophole" to get the government to pay your mortgage – PLUS receive hundreds in extra cash on top.(Page 217)
Collect $100s for pictures in Old Family Photo Albums! Believe it or not, there is an easy way to turn your old artwork/photographs into $100 bills (certain businesses are desperate). (Page 297)
Get paid every time your favorite song gets played on the radio! This little-known website allows you to tap into royalty payments every time your favorite song is played on the radio. Some lucky folks collect thousands of dollars a year! (Page 307)
Pocket upwards of $197 PER HOUR simply by taking a walk through the woods in the fall… or $137 while visiting your favorite beach in the summer… and many, many more!
Needless to say, this book has become highly sought after.
So if you don't claim your free copy of Income for Life today, we'll send it to the person behind you in line…