This story was originally published here.
You may not like the market's seemingly disrespectful and maybe callous behavior in light of today's uncertainties and an increasingly hostile socioeconomic environment. But as an investor, it's also smart business to appreciate what's simply working. And right now, seeking shelter in the following three stay-at-home stocks rather than taking cover in cash makes sense.
The market is blind because it has no eyes. The market is deaf as it has no ears. But in a market made up of stocks, price action can speak volumes to investors who are paying attention. And in today's heated America where the novel coronavirus remains lurking in the background and uprooted by polarized and sometimes violent protesting in the wake of the senseless death of George Floyd, that's certainly been the case.
Major indices have continued their seemingly unstoppable climb towards their pre Covid-19 levels. For its part, the broad-based large-cap S&P 500 has gained nearly 43% since its March 23 low. That puts the market barometer within spitting distance of recovering all of its short-lived, but dizzying and destructive bear market losses.
What was once nearly unthinkable in the market just over two months ago, has for all intents and purposes been fully realized. And maybe more breathtaking or unbelievable, stock prices have risen even in the face of today's latest awful and still unfolding problem to challenge America.
So, what's next? Nobody knows for certain.
It is true though, as CNBC's Jim Cramer recently outlined, the disruptive combination has given stay-at-home stocks a "major extension" as investors simply try to make money. And among that group are crowd favorites Netflix (NASDAQ:NFLX), Amazon (NASDAQ:AMZN) and Roku (NASDAQ:ROKU), buying into this investing theme should include monitoring the price charts of these three constituents for timely purchases in the days and weeks ahead.
Stay-at-Home Stocks to Buy: (PTON)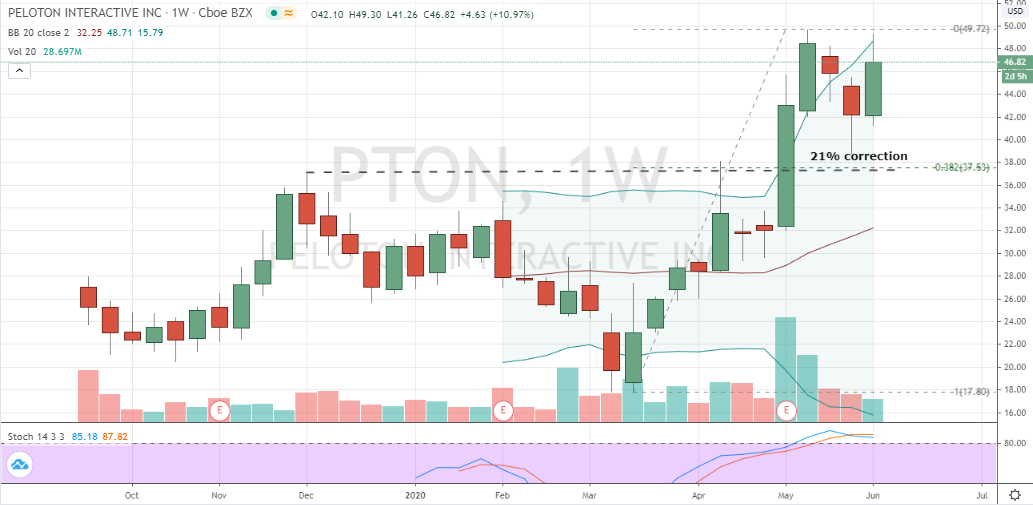 Source: Charts by TradingView
The first of our stay-at-home stocks to buy are shares of Peloton. The hotly contested, high-end indoor cycling platform has made all the right moves since the market bottomed. That includes shares establishing an all-time-low in front of the S&P 500's own corrective bottom on March 23 and leading the indices higher. And despite having its share of bearish protesters and short interest of around 25%, Peloton has continued to look fit on the price chart.
The past couple weeks has seen shares work off a bit of overheated and consolidate its rally to all-time highs in a three week corrective pattern. At the end of the day, the price action is healthy. Now and with Peloton confirming the pattern's hammer test which found support just above the prior highs, this stay-at-home stock is in position for a leg higher.
My recommendation today is to watch the weekly stochastics form a bullish crossover in conjunction with a breakout and buy shares of this stay-at-home stock on momentum.
Editor's Note: To keep reading, click here.
65 Unique Ways ANYONE Can Make Extra Cash (Without Getting a Second Job)
Are you looking for great sources of real income, without having to get a second job?
Then keep reading, because author Neil George wants to send you his new book that profiles 65 simple ways to earn large amounts of work-free income.
…extra cash that you can collect ON TOP of your Social Security check…
…without messing around with crappy jobs. (Pizza delivery driver? No way.)
These are PROVEN cash-gushing strategies… the kind typically used by the wealthy elite.
And the best part…
Neil George has set aside copies of his book, Income for Life, and he's willing to send you a hardback version today, ABSOLUTELY FREE (just pay shipping).
(Just 517 copies left, so click here to claim yours before it's ripped away.)

Here's just a sample of what you can find inside:
Learn the secret of the $50,000 lump sum Social Security check. Seriously, it couldn't be easier!
Use what Neil calls the "F.H.A. Loophole" to get the government to pay your mortgage – PLUS receive hundreds in extra cash on top.(Page 217)
Collect $100s for pictures in Old Family Photo Albums! Believe it or not, there is an easy way to turn your old artwork/photographs into $100 bills (certain businesses are desperate). (Page 297)
Get paid every time your favorite song gets played on the radio! This little-known website allows you to tap into royalty payments every time your favorite song is played on the radio. Some lucky folks collect thousands of dollars a year! (Page 307)
Pocket upwards of $197 PER HOUR simply by taking a walk through the woods in the fall… or $137 while visiting your favorite beach in the summer… and many, many more!
Needless to say, this book has become highly sought after.
So if you don't claim your free copy of Income for Life today, we'll send it to the person behind you in line…