This story was originally published here.
On the surface, Thursday seemed like any other session when profit-taking strikes. The S&P 500 and Nasdaq took well-deserved breathers, declining 0.61% and 1.09%, respectively. But if you look closer, you'll see an important theme. While leaders lagged, laggards led. Instead of indiscriminate selling taking everything lower, we saw rotation out of large-caps and into small-cap stocks.
This is a bullish omen signaling a broadening of the market recovery. Small-cap stocks have long underperformed. They were hit hardest during March's massacre, ultimately falling 44%. And, they've been the slowest to rise. But not this week! Wall Street's go-to fund for tracking the little guys, the iShares Russell 2000 ETF (NYSEARCA:IWM), is up 7.3% so far on the week. By comparison, the S&P 500 is only up 3%. That's a substantial discrepancy.
While some small-caps have yet to crawl out of the dumpster, others are finally breaching resistance and turning their daily trends higher. Here are three of my favorite.
Let's take a closer look at the price levels to watch and how to trade these small-cap stocks moving forward.
Small-Cap Stocks to Trade: Bed Bath and Beyond (BBBY)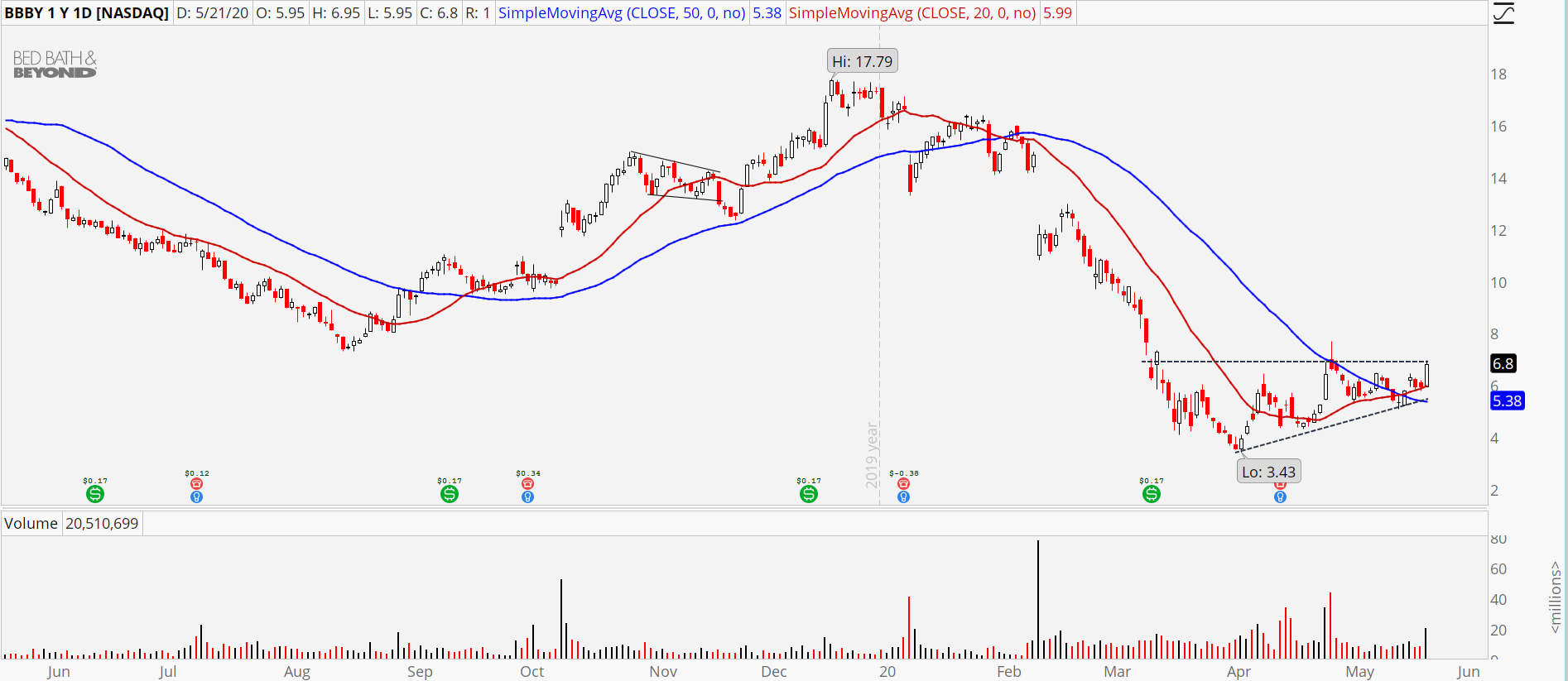 Source: The thinkorswim® platform from TD Ameritrade
Brick and mortar retailers have been under siege from Amazon (NASDAQ:AMZN) for years now. Bed Bath and Beyond is a shell of its former self, and the wholesale destruction of its once lofty share price has been hard to watch. The global pandemic only accelerated the downward spiral, ultimately driving BBBY stock to $3.43 before sellers were sated.
Since then, however, we've seen a constructive bottoming formation put in. And, it's compelling enough to warrant bullish trade ideas. The price action has taken on the form of both a cup-and-handle and an ascending triangle. Volume patterns have weighed in favor of buyers for the past month. Thursday's 14% moonshot saw over 20 million shares traded, suggesting big buyers were wading in. BBBY stock has now double off the lows and looks primed to take out overhead resistance at $7.
If it does, a run to $10 could be in the cards. In case the breakout bid fails, I'd stop out on a push below support at $5.78.
Editor's Note: For the rest of the stocks, click here.
65 Unique Ways ANYONE Can Make Extra Cash (Without Getting a Second Job)
Are you looking for great sources of real income, without having to get a second job?
Then keep reading, because author Neil George wants to send you his new book that profiles 65 simple ways to earn large amounts of work-free income.
…extra cash that you can collect ON TOP of your Social Security check…
…without messing around with crappy jobs. (Pizza delivery driver? No way.)
These are PROVEN cash-gushing strategies… the kind typically used by the wealthy elite.
And the best part…
Neil George has set aside copies of his book, Income for Life, and he's willing to send you a hardback version today, ABSOLUTELY FREE (just pay shipping).
(Just 517 copies left, so click here to claim yours before it's ripped away.)
 
Here's just a sample of what you can find inside:
Learn the secret of the $50,000 lump sum Social Security check. Seriously, it couldn't be easier!
Use what Neil calls the "F.H.A. Loophole" to get the government to pay your mortgage – PLUS receive hundreds in extra cash on top.(Page 217)
Collect $100s for pictures in Old Family Photo Albums! Believe it or not, there is an easy way to turn your old artwork/photographs into $100 bills (certain businesses are desperate). (Page 297)
Get paid every time your favorite song gets played on the radio! This little-known website allows you to tap into royalty payments every time your favorite song is played on the radio. Some lucky folks collect thousands of dollars a year! (Page 307)
Pocket upwards of $197 PER HOUR simply by taking a walk through the woods in the fall… or $137 while visiting your favorite beach in the summer… and many, many more!
Needless to say, this book has become highly sought after.
So if you don't claim your free copy of Income for Life today, we'll send it to the person behind you in line…