This story was originally published here.
Individual stocks rally and fall every day. But inside today's bull market, the Nasdaq-100 and its component stocks have demonstrated the kind of leadership critical to sustaining the wider market rally. And right now, three Nasdaq-100 stocks are 'still' working hard to ensure that friendly trend continues.
Delta Airlines (NYSE:DAL), Boeing (NYSE:BA), Caterpillar (NYSE:CAT), Las Vegas Sands (NYSE:LVS) and more are just a few of the big names supporting NASDAQ gains. By Tuesday's closing bell, these large-cap stocks had advanced strongly.
This is especially important considering that those names have been a veritable who's who of stocks that have lagged the broader averages since late March's coronavirus-induced bottom.
Of course, there's nothing wrong with that, and it would be a mistake to be dismissive. On the session, S&P 500 added 1.27% and for the first time since the bear market bottom, moved convincingly above its 62% to new relative highs, turning bullish.
Reports of a new vaccine trial from biotech Novavax (NASDAQ:NVAX) and renewed economic optimism following a mostly successful test of new social hygiene standards during the Memorial Day holiday helped with those gains. But elsewhere in the market, Tuesday's early optimism faded fast.
The tech-heavy Nasdaq-100 and many of its top constituent stocks, which led U.S. equity markets higher over the past two months, has stumbled.
The index closed fractionally lower as influential leadership from Microsoft (NASDAQ:MSFT), Netflix (NASDAQ:NFLX) and other heavyweights was absent, even counterproductive, with many of those stocks closing firmly underwater.
The good news is that a single day does not a trend make. It's quite normal for leadership within a bull market to take a break. It is after all, a market made up of stocks. And even the best of the best are prone to profit-taking. Having said that and as long as the pause we're seeing right now doesn't turn overtly symptomatic of a bearish top, it's time to have a watch list of Nasdaq-100 stocks to buy.
Nasdaq-100 Stocks to Buy: Apple (AAPL)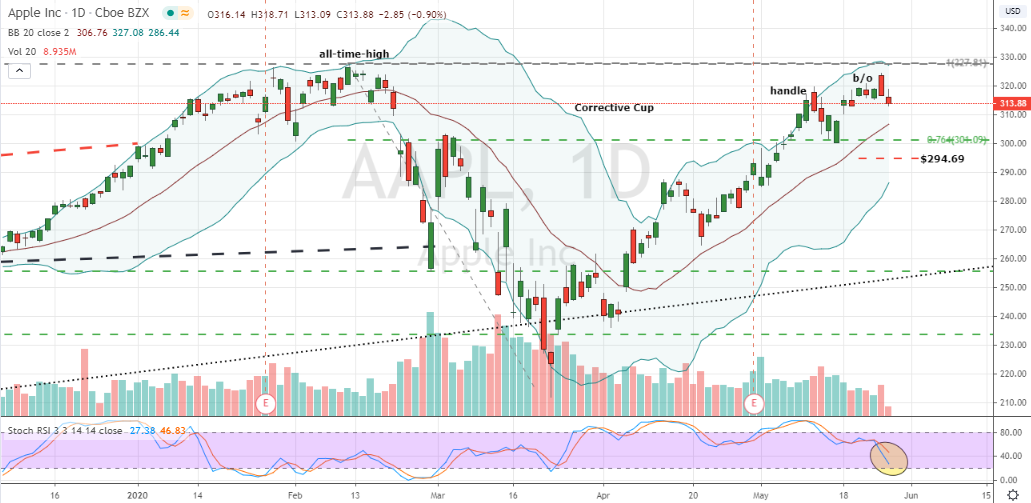 Source: Charts by TradingView
The first of our Nasdaq-100 stocks to buy is Apple. Shares of the diversified consumer technology giant have narrowed the market cap gap against Microsoft in recent days. And three new upwardly-revised, above-market-rate price target hikes from Wall Street could be what's needed to put shares back atop the valuation food chain.
Technically, shares of Apple have attempted to break out of a tight handle congestion pattern formed off the 76% retracement level of its cup shaped corrective base. However, the initial reaction has faltered, so shares are modestly trading back inside the handle formation.
My advice for this Nasdaq-100 stock to buy is wait on a flattening of stochastics, then watch for price action to confirm a daily chart pullback entry. The observation is the current handle could fall victim to a bear raid. But as long as shares remain above $294.69, any additional price weakness could be viewed as a healthy opportunity to buy shares within the larger cup base.
Editor's Note: Click here to read the rest.
65 Unique Ways ANYONE Can Make Extra Cash (Without Getting a Second Job)
Are you looking for great sources of real income, without having to get a second job?
Then keep reading, because author Neil George wants to send you his new book that profiles 65 simple ways to earn large amounts of work-free income.
…extra cash that you can collect ON TOP of your Social Security check…
…without messing around with crappy jobs. (Pizza delivery driver? No way.)
These are PROVEN cash-gushing strategies… the kind typically used by the wealthy elite.
And the best part…
Neil George has set aside copies of his book, Income for Life, and he's willing to send you a hardback version today, ABSOLUTELY FREE (just pay shipping).
(Just 517 copies left, so click here to claim yours before it's ripped away.)

Here's just a sample of what you can find inside:
Learn the secret of the $50,000 lump sum Social Security check. Seriously, it couldn't be easier!
Use what Neil calls the "F.H.A. Loophole" to get the government to pay your mortgage – PLUS receive hundreds in extra cash on top.(Page 217)
Collect $100s for pictures in Old Family Photo Albums! Believe it or not, there is an easy way to turn your old artwork/photographs into $100 bills (certain businesses are desperate). (Page 297)
Get paid every time your favorite song gets played on the radio! This little-known website allows you to tap into royalty payments every time your favorite song is played on the radio. Some lucky folks collect thousands of dollars a year! (Page 307)
Pocket upwards of $197 PER HOUR simply by taking a walk through the woods in the fall… or $137 while visiting your favorite beach in the summer… and many, many more!
Needless to say, this book has become highly sought after.
So if you don't claim your free copy of Income for Life today, we'll send it to the person behind you in line…