This story was originally published here.
A forced timeout stopped neither bulls nor bears from participating in sports apparel stocks. But for today's investors, is now a better time to buy or sell? Let's look at the current champs on Wall Street, and where each stands off and on the price chart before breaking out the pompoms.
The novel coronavirus has devastated individuals, businesses and economies around the world. It's also hit our love of sports from every imaginable angle.
For some, that's meant a closed gym. For others, Covid-19 has prevented going for a trail run or hike on public lands shuttered by the pandemic. And of course, individual and team sports from recreational endeavors and all the way to the big leagues have been disrupted for participants and spectators alike
Yet, despite the near universal stoppage time and reduced load of sweaty clothes to wash and wear, many sports apparel stocks have been on an inexplicable tear. Others, more logically so, haven't.
In the end champion stocks cheered on by today's investors, and those booed like the NY Jets, aren't future guarantees for bulls and bears that find themselves on the right side of action. The trend is your friend until it's not. And sometimes you'll find a hidden gem buried in the bargain bin.
Sports Apparel Stocks to Trade: Nike (NKE)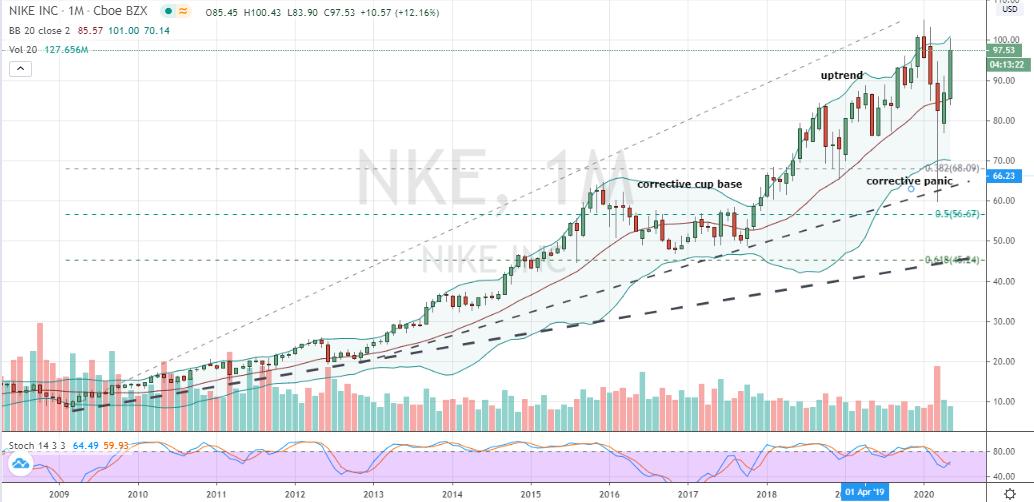 Source: Charts by TradingView
The first of our sports apparel stocks to trade are shares of Nike. Right now the world's largest retail sports brand looks ready to grow even bigger based on the price chart, setting the stock as a clear "buy,"
Technically, the sporting goods giant's shares have formed a 'V-like' bottom on the monthly chart. It's a type of base often seen as less durable than a bottom developed over the longer-term. But Nike's panic low was also a very well-supported (and successful) test of both its long-term uptrend and a pair of key Fibonacci levels. And there's more too.
With a bullish stochastics crossover now signaling inside neutral territory and an earnings catalyst next Thursday, the consensus is that this apparel stock is well-positioned to breakout.
For investors looking to play this apparel stock for upside, one favored options strategy to limit and reduce risk, as well as offer realistic but big-time profit potential is the July $105 / $110 bull call spread.
Editor's Note: Click here for the other two stocks.
65 Unique Ways ANYONE Can Make Extra Cash (Without Getting a Second Job)
Are you looking for great sources of real income, without having to get a second job?
Then keep reading, because author Neil George wants to send you his new book that profiles 65 simple ways to earn large amounts of work-free income.
…extra cash that you can collect ON TOP of your Social Security check…
…without messing around with crappy jobs. (Pizza delivery driver? No way.)
These are PROVEN cash-gushing strategies… the kind typically used by the wealthy elite.
And the best part…
Neil George has set aside copies of his book, Income for Life, and he's willing to send you a hardback version today, ABSOLUTELY FREE (just pay shipping).
(Just 517 copies left, so click here to claim yours before it's ripped away.)

Here's just a sample of what you can find inside:
Learn the secret of the $50,000 lump sum Social Security check. Seriously, it couldn't be easier!
Use what Neil calls the "F.H.A. Loophole" to get the government to pay your mortgage – PLUS receive hundreds in extra cash on top.(Page 217)
Collect $100s for pictures in Old Family Photo Albums! Believe it or not, there is an easy way to turn your old artwork/photographs into $100 bills (certain businesses are desperate). (Page 297)
Get paid every time your favorite song gets played on the radio! This little-known website allows you to tap into royalty payments every time your favorite song is played on the radio. Some lucky folks collect thousands of dollars a year! (Page 307)
Pocket upwards of $197 PER HOUR simply by taking a walk through the woods in the fall… or $137 while visiting your favorite beach in the summer… and many, many more!
Needless to say, this book has become highly sought after.
So if you don't claim your free copy of Income for Life today, we'll send it to the person behind you in line…